Naver is an important search engine in South Korea. Depending on which statistics one looks at, it is between 22% (Statcounter)* and astonishing 68% (Acecounter)*. Either way, Naver does have a significant market share - eventually the dominant part. Looking into Naver PPC for marketing your company does definitely make sense!
Advertising on Naver offers a whole new experience compared to Google
The search results pages on Naver.com are a whole lot different from what you night be used to by Google, Bing, Baidu and Yandex. They are always(!) heavily ads loaded in the top, segmented by types showing Naver blog content in block, UGC / Q&A / Forum content in a block and regular websites results in a block. SEO is possible but totally different from the SEO you know. The best chance for fast results is Naver PPC Advertising. Let us help you plan it thoroughly.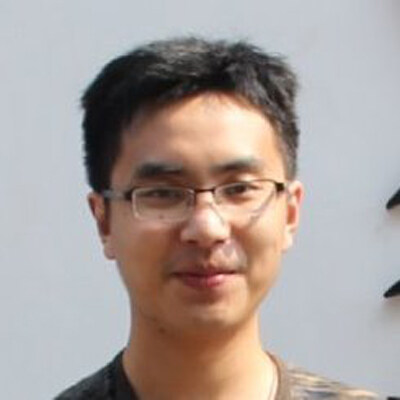 Head of Search (SEA & SEO)
Mr. Qing is the Head of Search at Jademond Digital. He oversees all SEO and PPC strategies for our clients.
Some of our PPC clients in Korea
Advertising in Korea - FREQUENTLY ASKED QUESTION
Which Search Engine is the most important in South Korea?

That highly depends on the statistics you want to believe. The international internet stats service provider Statcounter says Google is the largest search provider with 71% share, the Korean service Acecounter says that Naver is the most important search engine with 68% share. So depending. In both cases Google and Naver together have the majority of searches on their platforms. We tend to believe the Korean service being more accurate for South Korean data, as these services are based on numbers on clickstream data, which we believe the Korean service has better coverage of Korean web users, making the statistic more believable.

Should we run Ads through Naver?

Definitely you should. Our experience shows that most of our clients (not all) get more and better conversions through Naver Ads than Google Ads.

Should we run Ads through Google Korea?

Of course! Although Naver Ads are most likely the more effective Ads channel, Google Ads still has some market share and lead to meaningful conversions. The mix of different channels makes sense.

Should Naver Ads be in Korean language?

Yes! People in Korea often only search for English keywords, if they want to get a translation to the Korean language. So if you want to attract clients, you need to target Korean keywords and serve Korean ads.
Let us tell you a few words about the differences between Google and Naver in South Korea
In the following paragraphs you will learn about the market share of search engines in South Korea and the market share of Advertising revenue in South Korea. Also about the different Ads formats you can find on Naver Ads.
Search Engine Market Share: Naver
68.56% Marketshare for Naver by Ascecounter

The Korean online statistics provider Aceounter sees the Korean search engine Naver (Naver.com) with the highest share of the Korean search market of 68.56% in Q4 2020, follwed by Google iwth 22.91% market share and the second best known Korean search engine DAUM (daum.net) with still 6.95% market share. Clearly stating Naver to be the most important search engine and therefor Search Ads platform in South Korea. (Source: https://www.acecounter.com/www2/education/trendReportDetail.amz?rno=231)

23.01% Marketshare for Naver by Statcounter

The international internet stats tracker Statcounter sees a different marketshare for these search engines: In their data sample Google is the top player with 71.44%, followed by Naver with 23.01%.

But which of these two totally different statistics is true now? Even though this statistic shows Google being dominant, Naver still holds a market share of 23.01%, which is stronger than Bing, the worlds second strongest search engine, in any other market. (Source: https://gs.statcounter.com/search-engine-market-share/all/south-korea/)

Naver PPC revenue more than 54%

The local Korean media AceCounter says that Naver still has more than 68% of search market share and its PPC revenue more than 54% makes the understanding of Naver PPC very important if to succeed in Korea market. Naver Brands Ads count for another 10.6% and Naver Shopping Ads for yet another 6.5%.

So all together Naver counts for 71.6% of Ads market share with Google Ads only counting for 18%, which makes Google still the second most important Ads provider in South Korea - but if you want to reach the right audience, you need to go for advertising with Naver.
To give you an idea of the uniqueness of Naver, below you can see a comparison between Google Ads and Naver PPC.
1. Naver Ads has more formats than Google Ads.
Compared to Google, Naver is considered more than a search engine by Koreans. Naver also plays a big role in news and media, providing information about weather, shopping, popular topics, and so on. In addition, Naver's social media products, such as Naver Café, are much more influential and are heavily used by Korean users.
Therefore, Naver Ads offers not only Search Ads, but also Display Ads, including Search Ads (called PowerLink Ads), Product Search Ads (called Shopping Search Ads), Content Display Ads (called PowerContent Ads), Brand Search Ads and Location Based Ads / Places Search Ads.
Naver Search Ad Example
2. Naver Ads offers fewer different matching options for keywords
.
Google Ads offers four keyword match types: broad match, broad match with modifier, phrase match and exact match.
Naver Ads offers two keyword match types: exact match and keyword expansion. The latter is in the testing phase and is not yet available in the backend control panel.

Naver has only Exact Match and Keywords Expansion
The disadvantage of Exact Match is also obvious: difficulties in expanding the keyword pool. As a result, a certain number of keywords with conversion potential are lost.
Naver's "Keyword Expansion" feature, which is similar to Google's Broad Match feature, is usually triggered by a large number of irrelevant search queries, and the budget was quickly used up when this feature was activated, and the CTR dropped to 1/5 of the usual. Therefore, excluding negative keywords is crucial when using the Keyword Expansion feature.
If the Keyword Extension feature is set to ON, your ads may still appear with synonyms even if the ad group keyword is turned off or paused, and you may have to pay for a click. Therefore, you need to set both the ad group and the function to OFF when you pause or stop the ads.
3. naver has more paid listings on its SERP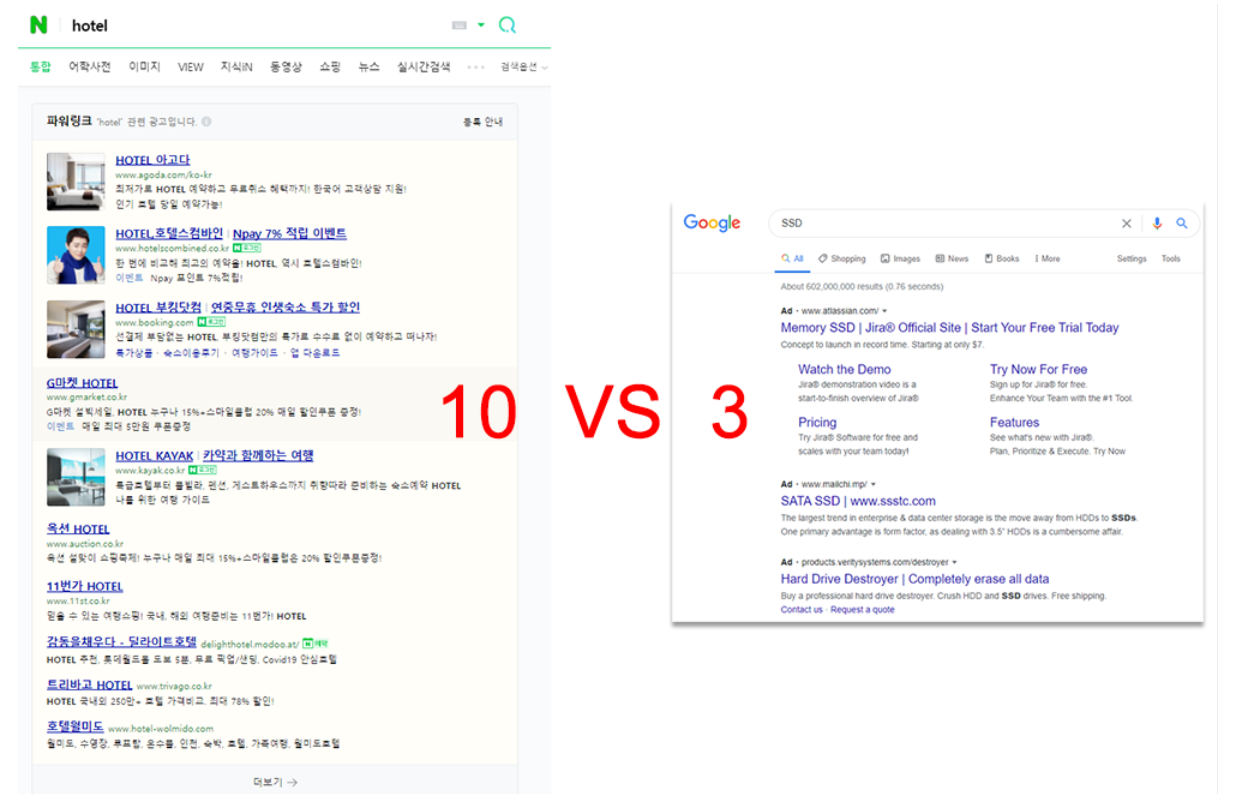 Google usually places a maximum of 3 ads on top of its first SERP (Search Engine Result Page).
Naver, on the other hand, can easily place 10 paid ads before the organic ads. As a result, the click-through rate is much lower than Google. If you are used to 2% CTR being just an acceptable metric, you need to be prepared for the fact that you will very often see an average CTR of 0.5% in Naver's PPC reports.
4. Naver Ads tracking is less automatic than Google
If you use Google Analytics, you can track your Naver PPC performance, but this requires you to manually add the UTM code to each ad. Naver has a semi-automated tool (see below) that can save you this labor-intensive work, but still can't compare to Google, as you still need to work with multiple tables that allow you to combine the Naver template sheet and your GA tracking sheet to see which keywords from which campaign are performing in Google Analytics.
Naver's semi-automated keyword performance tracking tool
5. Naver Ads has stricter censorship than Google
You can enable the features to insert dynamic keywords and site links in Naver ads, but the censorship of the ad texts is very strict. Naver will ask you to provide documents such as brand certificate when you insert your brand terms in ads, and when you insert location-based ads, you need to provide business registration of stores, etc. Regulated industries like medical and hospitals cannot run ads with dynamic keywords. Also, if you insert images into the ad, you need to prove that you own the copyright of the graphic elements.
We hope the above paragraphs give you an idea of the differences between Naver PPC and Google SEa as you know it. There are many more that we can list if we cover them exhaustively. If you are curious, please feel free to contact Korea digital marketing.
"Compared to Google, Naver is considered more than a search engine by Koreans. Naver also plays a big role in news and media, providing information about weather, shopping, popular topics, and so on."

Qing He, Head of Search, Jadegital
A Promise from Kun Tang, Founder and CEO of Jademond / Jadegital