Baidu – What is Baidu?
Baidu Inc. (Chinese: 百度; pinyin: Bǎidù, meaning "hundred times") is a leading AI company with a strong Internet foundation. Baidu's vision is to become the world's top high-tech company that knows the most users and can help people grow.
The word "Baidu" comes from a word by Xin Qiji, a poet in the Southern Song Dynasty 800 years ago: Looking for him thousands of Baidu in the crowd. This sentence describes the poet's persistent pursuit of ideals.
At the end of 1999, Li Yanhong, who was in Silicon Valley in the United States, saw the great development potential of China's Internet and Chinese search engine services. With the dream of technology to change the world, he resolutely quit his high-paying job in Silicon Valley and founded Baidu in Zhongguancun on January 1, 2000 with search engine patent technology.
Company Profile
Baidu is one of the few companies in the world that provide full-stack AI technology such as AI chips, software architecture and applications, and has been rated as one of the world's four largest AI companies by international organizations. With the mission of "using technology to make the complex world simpler", Baidu adheres to technological innovation, and is committed to "becoming the world's top high-tech company that understands the most users and can help people grow".
Baidu was founded in Zhongguancun on January 1, 2000. Li Yanhong, the founder of the company, has a patent for "hyperchain analysis" technology, which also makes China one of the only four countries in the world with core search engine technologies outside the United States, Russia, and South Korea. Baidu responds to billions of search requests from more than 100 countries and regions every day. It is the main entrance for netizens to obtain Chinese information and services, serving 1 billion Internet users.
Baidu History
2000
Robin Li founded Baidu and set sail with his dream
Launching an independent search portal, laying a solid foundation for future development
2001
Launched independent search engine, directly serving users and laying a solid foundation for future development
2002
Implemented "Lightning Plan", Chinese search experience surpassed google
2003
Baidu surpassed Google and became the preferred search engine for Chinese Internet users
Baidu released image search and news search
Baidu posting bar online, later became the world's largest Chinese community
2004
Baidu became the search engine of choice for hundreds of millions of Chinese Internet users, and took a clear lead in the Chinese search market
2005
Opened home page for a week to help people suffering from tsunami
Launched "Baidu Know"
Successfully listed on NASDAQ in the United States, creating a myth of Chinese concept stocks in the United States, with a 354% increase in share price on the first day
2006
Encyclopedia was launched, becoming the world's largest Chinese encyclopedia
2007
According to the INTERNET GUIDE 2007 China Internet Survey Report, Baidu's user reach reached 80.79% in 2006
Baidu's home page changed from "Baidu Search" to "Baidu One"
2008
Baidu was selected as one of the FT's "Top 10 World Class Brands in China", the only Chinese Internet company to be selected.
Baidu joined the UN Global Compact, filling the gap in this field for Chinese Internet companies
Shanghai R&D Center was established, launching the innovative "Aladdin" model
2009
Launched the "Frame Computing" technology concept and officially moved into the new office and R&D building "Baidu Building" to start a new dream.
2010
Li Keqiang, then member of the Standing Committee of the Central Political Bureau and Vice Premier of the State Council, visited Baidu
Baidu's tenth anniversary, Robin Li released three visions for the next ten years
Baidu Phoenix Nest successfully switched, Q1 results increased significantly
Baidu Input Method officially launched, backed by 10 years of search technology accumulation
Baidu became the first national innovative pilot enterprise on the Internet
Founded Aikii
2011
Baidu's web search market share reached 83.6% and hit a new record high
US$ 306 million strategic investment in Go
Baidu knows the open platform for cooperation on line
Baidu led the cloud computing and received the highest support from the Development and Reform Commission
2012
Established LBS business unit and transformed to mobile business
Li Keqiang, then member of the Standing Committee of the Central Political Bureau and Vice Premier of the State Council, came to Baidu for research
2013
Acquired Nuomi
Established IDL (Institute of Deep Learning)
Acquired 91 Wireless for US$1.91 billion
2014
On April 3, 2014, Baidu announced that it had obtained a fund sales payment license and would officially provide fund third-party payment settlement services for fund companies and investors. Baidu said that in the future, Baidu's financial business can use Internet channels to get involved in Internet fund sales business and provide users with more convenient and fast fund purchase services.
On May 17, 2014, Baidu announced the appointment of Dr. Wu Enda as Baidu's Chief Scientist, with overall responsibility for the Baidu Research Institute. Baidu Research Institute has labs in Silicon Valley and Beijing.
On May 29, 2014, the annual Baidu Alliance Summit kicked off on May 29. 29, Baidu's top executives, led by Baidu founder, Chairman and CEO Robin Li, will gather in Huangshan with more than 300 Internet elites to discuss the Internet.
On June 5, 2014, Baidu announced it would make a public offering of $1 billion in bonds, which have a five-year term and a 2.75% interest rate. The bonds have been registered under the U.S. Securities Act of 1993 and are expected to be listed on the Singapore Stock Exchange.
On June 6, 2014, a customized communications wealth management product, "Wobafu", jointly created by Baidu Wallet, Guangdong Unicom and Fortune Fund, was officially launched in Guangzhou. It is a cross-border, exclusive communication wealth management product for new and existing Guangdong Unicom 3G/4G users.
On July 8, 2014, Baidu Financial Center, together with CSI Index Company and Guangfa Fund, launched the CSI Baidu Baifa Strategy 100 Index in Shanghai, which is an Internet financial product developed by using big data mining technology to introduce Internet big data technology into the index compilation program. Driven by the wave of Internet finance, "Baifa 100" uses Baidu's Internet financial big data technology to automatically analyze, consolidate, count and calculate the data of specific financial entities, and introduce quantitative stock selection models to compile stock market indices.
On July 17, 2014, the Portuguese version of Baidu Search was officially launched to provide services in Brazil, becoming an important symbol of the strengthening of cooperation between China and Brazil in the field of technological innovation.
In August 2014, the case of Baidu v. 360 for violation of Robots Agreement was brought to court by Baidu in 2013. Baidu argued that 360's blatant violation of the Robots Agreement, arbitrarily crawling and copying its website content for its own use seriously violated the rights and interests of Baidu, and harmed the interests of Baidu and the majority of Internet users, constituting unfair competition, claiming 100 million yuan from it.7, around whether the 360 search engine violated the Robots Agreement (also known as crawler agreement, robot agreement, etc.) The Beijing First Intermediate People's Court today issued a first instance verdict that the defendant Beijing Qihoo Technology Co., Ltd. has violated the relevant provisions of the Anti-Unfair Competition Law and should compensate Beijing Baidu.com Technology Co., Ltd. and Baidu Online Network Technology (Beijing) Co. for economic losses and reasonable expenses totaling 700,000 yuan, while rejecting Baidu's other litigation requests.
On the morning of August 13, 2014, the Tianjin Peace Court delivered a public judgment on the case of Tianjin Huaxia Future Culture and Art Foundation against Tianjin Lanfei Culture Communication Co. Ultimately, the court ruled that Lanfei infringed on the exclusive right to use the registered trademark "Huaxia Future", and that Baidu failed to fulfill the corresponding review obligation and assumed the corresponding supplementary responsibility. This is the first verdict in China on the form of joint liability of internet service providers.
2015
In January 2015, Shanghai General Motors and Baidu signed a strategic cooperation agreement, announcing a deep cross-border cooperation in the field of Telematics and jointly promoting the standardized application of Baidu's newly released CarLife Telematics platform.
In March 2015, the State Internet Information Office approved Baidu's website to pass the 2014 annual inspection of Internet news and information service units after rectification.
In March 2015, Huawei and Baidu officially signed a memorandum of cooperation on Huawei's innovative solution Service Anchor and Baidu Maps in Barcelona, announcing that they would accelerate the application of mobile Internet based on indoor mobile networks, promote the development of relevant industry standards, explore new business models in various aspects such as technology innovation, product development, solutions and marketing The two companies announced that they would accelerate the application of indoor mobile Internet based on mobile networks, promote the development of relevant industry standards, explore new business models, and strengthen the implementation of ICT convergence solutions and cross-border cooperation.
On March 16, 2015, Baidu's Japanese website was closed. When users entered the site, they were presented with a message describing Baidu's corporate purpose, plus emails from a number of contacts and links to information about the company.
In April 2015, the National Office for Combating Pornography and Illegality announced the first batch of cases under the "Net Clean 2015" campaign, in which Baidu was legally investigated and punished for spreading obscene and pornographic information.
On June 6, 2015, on the occasion of the 20th National Eye Care Day, Baidu announced through various channels that it was working with Tsinghua University to develop a search for the blind.
On June 11, 2015, Stellaris Holdings Group Limited announced that Baidu, Hauppauge Fund and Tian An Property & Casualty Insurance spent a total of HK$450 million to acquire a stake in Stellaris Holdings, of which Baidu spent HK$150 million to acquire a 1.59% equity interest in Stellaris Holdings. Through the HK$150 million stake, Baidu obtained the exclusive ticketing partnership with Star Cinema.
In July 2015, Chinese language search engine Baidu Inc. announced that its board of directors had approved a stock buyback program under which the company may repurchase up to $1 billion amount of shares over the next 12 months.
On July 28, 2015, shares of Chinese search engine Baidu Inc. plunged 15 percent, the largest one-day drop since the financial crisis. Baidu's shares fell $29.65 on the Nasdaq stock market to close at $168.03, a 15% drop for the day. Based on the closing price, Baidu Inc. has a capital market capitalization of $58.8 billion, a market capitalization far less than Chinese Internet rivals Tencent and Alibaba.
In September 2015, domestic mom-and-pop e-commerce company Honeybud announced the completion of a $150 million Series D round of financing led by Baidu and followed by existing shareholders such as Redshirt Capital, H capital and several U.S. private equity funds, while Honeybud released screenshots of its bank account to confirm the financing amount.
In September 2015, Li Mingyuan, General Manager of Baidu's Mobile Services Business Group, said at the Global Mobile Internet Conference in India that India would be one of the most rapidly growing emerging markets for the global Internet, and that Baidu had set up an office in New Delhi, India, and would probably apply its experience accumulated in the domestic market to the Indian market in the future.
On September 23, 2015, Microsoft and Baidu announced a strategic cooperation in which Baidu will become the default homepage and search engine for the Windows 10 Microsoft Edge browser in the Chinese market. At the same time, Baidu will also provide Windows 10 upgrade services through the "Windows 10 Direct".
On September 28, 2015, Fortune officially released the 2015 "Most Admired Chinese Companies" list, and Baidu ranked second in the list.
On September 30, 2015, Baidu announced the restructuring of its board of directors, with renowned Japanese business executive Nobuyuki Izumi and NetDragon Chairman Liu Dejian no longer serving as directors of Baidu; CEO Yang Yuanqing of Lenovo Group and former Uber CFO Brent Callinicos were appointed as new directors of Baidu.
On October 12, 2015, Baidu Direct officially launched the "Baidu Real Estate Platform" in Beijing. The platform addresses the pain points of the real estate industry and integrates Baidu's five advantages in traffic, branding, data, payment and technology to provide a "comprehensive set of solutions" for traditional real estate enterprises to transform into Internet+. It provides a "comprehensive solution" for the transformation of traditional real estate enterprises to Internet+, deeply connecting people and services in the real estate industry.
On October 26, 2015, Ctrip made an announcement about its merger with Where to Go. The merger was conducted in the form of a share swap. After the transaction is completed, Baidu will own 25% of the total voting rights of Ctrip, while Ctrip will own 45% of the total voting rights of Where to Go. In other words, Where to go is being acquired by Ctrip, while Ctrip has chosen Baidu. Baidu confirmed that it will become the largest shareholder of Ctrip after the transaction is completed.
On October 31, 2015, Baidu and the Shenzhen Health and Family Planning Commission held a signing ceremony in Shenzhen for the "Baidu Corporation – Shenzhen Health and Family Planning Commission Strategic Cooperation". The cooperation between Baidu and Shenzhen's Medical 160 Network has already opened the door to mobile medical services in Shenzhen, and this joint venture with Shenzhen Health Planning Commission has accelerated the development of mobile medical market in Shenzhen.
On November 13, 2015, MSCI Ming Sheng announced that 14 Chinese stocks were included in the MSCI China Index and MSCI Emerging Market Index for the first time. These 14 companies include Baidu.
On November 18, 2015, CITIC Group and Baidu announced a strategic partnership in which CITIC Bank, a subsidiary of CITIC Group, and Baidu initiated the establishment of a direct marketing bank. According to CITIC Bank's announcement, the direct marketing bank will be named "Baxin Bank Co.
On December 3, 2015, Baidu and Amazon China announced a strategic partnership, in which the two companies will cooperate in search services, application distribution, video content distribution and other areas.
On December 10, 2015, Baidu announced that Baidu's driverless cars achieved fully automated driving for the first time in China under mixed road conditions on urban, ring roads and high-speed roads.
The road test route announced by Baidu showed that the Baidu driverless car started from near the Baidu Building in Beijing's Zhongguancun Software Park, drove onto the G7 Beijing-Xin Expressway, arrived at the Olympic Forest Park via the Fifth Ring Road, and then returned on the original route. The Baidu driverless car drove automatically throughout the whole round trip, and achieved several complex driving actions such as following and slowing down, changing lanes, overtaking, getting on and off the ramp, turning around, etc. It completed the switching of different road scenarios from entering the highway (merging into the traffic) to leaving the highway (leaving the traffic). The maximum speed during the test reached 100 km/h.
On December 14, 2015, Baidu announced the official establishment of the Automated Driving Division. Wang Jin, senior vice president of Baidu, served as general manager of the division, Li Zhenyu, senior director of Baidu, served as deputy general manager, and Lin Yuanqing, director of Baidu's Deep Learning Lab, also served as deputy general manager. Wang Jin announced that the Baidu Autonomous Driving Division will focus on technology development, ecological construction and industrial implementation of self-driving cars, and plans to commercialize self-driving cars in three years and realize mass production in five years.
On December 22, 2015, Baidu and Peking Union Medical College held a conference on cooperation in cancer research. The two sides will conduct research cooperation using gene sequencing and big data analysis technologies for esophageal cancer, which is highly prevalent in China. For this collaboration, Robin Li personally donated 30 million RMB. The collaboration between Concordia and Baidu will select 1,500 esophageal cancer patients and 100 esophageal cancer families as research subjects, do whole-genome sequencing, and through data analysis, find the relationship between genetic variants and the occurrence, prognosis and treatment response of esophageal cancer, and finally realize molecular early warning and drug target design. In the whole project, Concordia is mainly responsible for data collection and pathological validation, while Baidu is mainly responsible for data analysis and gene localization.
On December 23, 2015, Baidu and IFC jointly announced the launch of "IFC Baidu Big Data Fund", the first big data quantitative fund in China. After cooperating with CITIC Bank and Allianz Insurance to set up Baxin Bank and Baian Insurance, Baidu once again joined hands with traditional financial institutions in the securities field, using big data technology to tap into the secondary market, completing a comprehensive layout of the three major sections of finance.
2016
In January 2016, Cloud Home Management announced that it had joined hands with Baidu and Jingdong Home to create a "house cleaning" service model that requires no appointment and aunties arrive at home in 2 hours, and has started pilot operation in Shanghai.
In January 2016, during the first visit of Travis Kalanick, the global CEO of Uber, the list of Uber's Chinese investors was finally unveiled. In addition to HNA Group, CITIC Securities, China Taiping, China Life and Guangzhou Automobile Group, which Kalanick revealed, the remaining investors include Vanke, Minsheng Bank and China Broadband Industry Fund. In addition, Baidu Inc. participated in the A and B rounds of financing for China Youbou. Kalanick also said the "list of investors in China is long, but many investors personally want to keep a low profile and will not be disclosed for now."
In February 2016, Econet Intelligence released "China Mobile Internet User Analysis 2016", which showed that Baidu's user coverage was 69.7%. [5]
On April 20, 2016, Baidu announced that its Baidu video business was officially operating independently and would be dedicated to building the number one PGC video platform in China. This initiative is the latest progress of Baidu's "aircraft carrier plan" and a key step to build an open and win-win content ecosystem.
On May 16, 2016, Baidu and Wuhu Municipal People's Government of Anhui Province signed a cooperation agreement in Beijing, announcing that they would jointly build a "fully driverless car operation area" in Wuhu, which is the first of its kind in the world.
On May 12, 2016, the 360 company sponsored the hunting network alliance conference was held in Beijing, Baidu, Jingdong, Netease, 58 and other 25 websites as the first members of the formal access to the hunting network platform, based on big data, sharing network fraud information, collaborative processing of online fraud information. The first members of the hunting network alliance have 25 Internet companies, including 360, Baidu, Netease, Jingdong, LeTV and other news sites, search engines, business portals, e-commerce and life service platforms and video sites.
On June 10, 2016, Baidu said in its FORM 6-K filing with the U.S. Securities and Exchange Commission (SEC) that it had signed a $2 billion loan agreement with 21 banks on June 8, 2016. According to the filing, $1 billion is a five-year "bullet loan" and the other $1 billion is a five-year revolving loan with an interest rate 110 basis points higher than the London Interbank Offered Rate (LIBOR). Baidu said the proceeds will be used for general corporate purposes.
On June 13, 2016, Baidu and the Tourism Authority of Thailand (TAT) held a press conference at which they officially signed a strategic cooperation memorandum in which TAT will provide Baidu Thailand Maps with 17,000 authoritative certified geographical information on attractions, merchants and hotels, and coordinate nationwide cooperation between tourism operators and Baidu.
On May 25, 2016, Baidu Post announced the official launch of the Post Entertainment Channel and the simultaneous release of its first financial product "Entertainment Profit". Entertainment Profit can solve the difficulties of raising funds for film and television organizations in the process of making movies, concerts and fan meetings, while fans can not only get investment returns through Entertainment Profit, but also get the opportunity to interact with their favorite stars and related star peripherals.
In June 2016, Uber (Uber) announced its "Uber + Travel" strategy at its 2016 mid-year strategy conference. HNA, Where to Go, Tongcheng Travel, Jingdong, Poor Travel, TripAdvisor Catwalk, Discovery Extreme Base, China Telecom, Baidu and other travel brands and tourism bureaus in several countries became the first batch of travel partners of Uber in China and will cooperate in products and marketing in the future.
In July 2016, the buyers, including Baidu Chairman Robin Li and Akiyo CEO Gong Yu, abandoned the acquisition of Baidu's 80.5% stake in Akiyo, effective immediately. After several rounds of negotiations, the parties were unable to agree on a structure and price.
On August 3, 2016, Baidu released DuSee, a new augmented reality platform developed for smartphones.
In August 2016, Ford Motors and Baidu invested a total of $150 million in Velodyne, a Silicon Valley-based radiosensing manufacturer, of which Ford will invest $75 million. Radium sensing technology is seen as an important component of autonomous driving technology.
In September 2016, Baidu announced the establishment of an independent venture capital firm, with Robin Li as chairman and involved in the evaluation of important projects. Baidu said that the newly established Baidu Ventures will focus on artificial intelligence, as well as AR, VR and other next-generation technology innovation projects, concentrating on early-stage projects, and the first phase of the fund size will reach $200 million.
On September 1, 2016, at the 2016 Baidu World Congress, Baidu first fully demonstrated Baidu's AI achievements – Baidu Brain – to the outside world and announced the opening of its core capabilities and underlying technologies to a wide range of developers, entrepreneurs and traditional enterprises.
In September 2016, Baidu officially announced the opening of its deep learning open source platform PaddlePaddle to the public, which is another company that has open sourced its AI technology after Google, Facebook and IBM.
2017
On January 13, 2017, Baidu reached an agreement with two third-party companies to sell the company's mobile gaming business for a total price of RMB 1.2 billion (approximately $172.69 million) in cash. [6]
On March 1, 2017, Baidu announced via internal email that it was consolidating its existing businesses and resources and establishing the Intelligent Driving Business Group (IDG), with Lu Qi, President and COO of Baidu Group, as General Manager.
In March 2017, Baidu announced the launch of SwiftScribe, a web app that converts audio into text. The web app, backed by Baidu's deep speech recognition system, converts audio files into text with a conversion efficiency 1.67 times faster than manual shorthand. [7]
On March 16, 2017, Baidu announced that Zeng Liang, Vice President of Baidu and General Manager of Baidu Nuomi, used his position to seek personal gain in the financing process of Baidu agents, violating the company's code of ethics, and was therefore dismissed from his position. Xiang Hailong, senior vice president of Baidu and president of Baidu Search, who was previously Zeng Liang's direct boss, will also serve as general manager of Baidu Nuomi. [8]
On March 21, 2017, Baidu announced the cancellation of its news source database. Baidu said that because of Baidu's technical upgrade of time-sensitive content identification, the original independent news source database format was no longer suitable for use, and the highest quality sites in the original news source database would be invited to reside in the VIP club of the webmaster platform. At the same time VIP Club provides a comprehensive upgrade of services. [9]
On April 19, 2017, Baidu announced that it would open its self-driving software platform Apollo (Apollo) to partners in the automotive industry and autonomous driving to help them build their own autonomous driving systems. [10]
On May 18, 2017, Baidu announced that it had achieved the "restoration" of the damaged Terracotta Warriors and Horses of the First Emperor of Qin through artificial intelligence technology, as well as the intelligent display of information about related cultural relics. The "restoration" plan uses AR technology to "restore" the Terracotta Army Pit 2, the kneeling terracotta warriors, and the bronze carriage horses. [11] The restoration project was launched in June 2017.
In June 2017, the State Council released the list of the second batch of dual-innovation demonstration bases, and Baidu was awarded the enterprise demonstration base.
In June 2017, Dentsu-Angelis Group, together with Baidu and other media partners, as well as research partners Jing Shuo Technology and Nielsen, jointly released the "Meet the "Hidden" Power: A White Paper on Mobile Native Advertising". [12]
On July 9, 2017, the 2nd CCF-GAIR Global Artificial Intelligence and Robotics Summit entered its last day of agenda. Sun Yongyi, Deputy Director of Baidu's Automated Driving Division, brought a speech entitled "Apollo: The Road to Open Automated Driving" to the conference. [13]
On July 27, 2017, global open digital payment platform PayPal and Baidu announced the signing of a strategic partnership agreement that will give Chinese consumers new options for cross-border online shopping as they will be able to shop and pay at millions of PayPal international merchants outside of China through Baidu Wallet within China. The partnership will also give nearly 17 million PayPal merchants, both U.S. and international, more opportunities to connect with Chinese consumers through Baidu Wallet, Baidu's online payment application and service platform.
On September 21, 2017, Chinese internet giant Baidu announced a 10 billion RMB ($1.5 billion) autonomous driving fund that will invest in 100 autonomous driving projects over the next three years.
On September 27, 2017, Baidu Inc. and the National Internet Police jointly held the "Defend the Truth, 'Smart' Stop Rumors – Launching Ceremony of the National Internet Police in Baidu's Disinformation Platform". At the ceremony, Baidu's disinformation platform was launched, and 372 law enforcement patrol accounts from all over the country were officially stationed on the platform.
On September 28, 2017, the management committee of the Xiongnu New Area in Hebei Province was approved to station Baidu and other companies in the Xiongnu New Area after a review in accordance with the principle of strict control of industries entering the area.
In October 2017, after discussions, a consensus was largely reached on the spin-off of Baidu's international business unit, and the decision on the spin-off was announced in two to three weeks.
On October 27, 2017, Shouqi Taxi and Baidu entered into a strategic cooperation, in which both parties will further explore the commercial operation of Telematics and autonomous driving, as well as the construction of intelligent transportation. Baidu provided Shouqi Yoche with Apollo L3j solutions and in-vehicle DuerOS for commercial cooperation in smart cars, while Shouqi Yoche worked with Baidu to promote the demonstration operation of autonomous driving technology in the online car business and scenic spots. Baidu provides full support for Shouqi Yoche with Baidu Maps, and Shouqi Yoche assists Baidu in developing high-precision maps for autonomous driving. [14]
On November 16, 2017, the 2016 Baidu World Congress kicked off in Beijing with the theme of "Artificial Intelligence", and Baidu announced its complete AI ecological open strategy to developers and partners for the first time. [15]
In November 2017, the announcement of enterprise name approval by the State Administration for Industry and Commerce (SAIC) disclosed by the SAIC Enterprise Registration Bureau showed that the enterprise name of "Baidu Xiong'an Technology Co.
2018
In February 2018, the first batch of shortlisted CDRs, Baidu was among them.
On March 6, 2018, Baidu announced the establishment of "Smart Living Group (SLG)", which consists of Baidu's "DouSecretary Division", Baidu's "Hardware Ecology Channel Division" and "Hardware Ecology Channel Division". The SLG is composed of Baidu's "Hardware Ecology Channel Department" and "Raven Studio", with Lu Qi, President and COO of Baidu Group, as General Manager.
On March 12, 2018, Baidu made a strategic investment in Polaris Technology, becoming the largest shareholder outside the founding team.
In March 2018, Baidu made a strategic investment of 1.01 billion yuan in smart TV brand Kukai, with a stake of 11%.
On March 19, 2018, Baidu announced that it officially launched the intelligent video speaker "Xiaodu at home" on March 26.
In March 2018, Baidu applied to issue two tranches of senior unsecured bonds.
In March 2018, Baidu said it would increase its capital to Baixin Bank by RMB 600 million.
On March 23, 2018, Baidu announced that it would conduct a public offering of notes totaling $1.5 billion. The public offering includes $1 billion worth of notes with an interest rate of 3.875% (due 2023) and $500 million worth of notes with an interest rate of 4.375% (due 2028). The notes are expected to be listed on the Singapore Stock Exchange.
In March 2018, Baidu exited the movie ticket business, and Baidu and Aiki signed an agreement whereby Baidu's movie ticket resources and business were transferred to Aiki to do so.
On April 12, 2018, Baidu said it had been granted a license to test self-driving vehicles in Fujian.
On April 18, 2018, Baidu was granted a self-driving test license in Chongqing.
On April 28, 2018, Baidu announced that its financial services business group had officially completed the signing of a split financing agreement, and that the new company would launch a new brand "Du Xiaoman" after the split to achieve independent operations, with Zhu Guang, senior vice president and general manager of Baidu's financial services business group, to become CEO of Du Xiaoman Finance.[16]
In May 2018, Baidu led an investment in Hosai Technology.
In May 2018, Baidu signed a formal agreement with Alibaba, agreeing to transfer the equity stake held by Baidu (Hong Kong) Ltd. in Hungry Man to Alibaba for a total amount of $488 million.
On June 8, 2018, Baidu launched its blockchain native application "Duoyuan" and launched its standalone APP on June 13.
In July 2018, Baidu made a strategic investment of RMB 1 billion in Lionbridge; Baidu and Lionbridge plan to jointly explore the application of autonomous driving technology to logistics trunk transportation and develop smart driving trucks; the development of autonomous driving solutions for road trunk logistics will be the most important direction of cooperation between the two companies, and Lionbridge will join the Baidu Apollo program as a partner.
On August 29, 2018, Beijing Dinglu Zhongyuan Technology Company, a subsidiary of Baidu, invested 50 million yuan to set up DuChain Network Technology (Hainan) Co. in Hainan Province, with Baidu Senior Vice President Xiang Hailong as Chairman
2019
In January 2019, Baidu announced the strategic transformation of the search company into the mobile ecology business group.
In February 2019, Baidu joined hands with CCTV Spring Festival Gala red envelope interaction, with a total of 20.8 billion interactions and 900 million cash red envelopes issued.
In March 2019, Robin Li attended the second meeting of the 13th National Committee of the Chinese People's Political Consultative Conference and put forward three major proposals to strengthen ethical research on artificial intelligence, build intelligent transportation solutions and improve electronic medical records.
In April 2019, LinkedIn announced the list of Best Employers in China in 2019, and Baidu ranked second. Baidu Brain won the first prize in the Science and Technology Progress Award of the Chinese Institute of Electronics. 2019 ABC INSPIRE Baidu Cloud Intelligence Summit, brand upgrade to "Baidu Intelligent Cloud".
Baidu Apollo topped the list with 91% of the total mileage in the 2018 Annual Work Report on Road Testing of Self-driving Vehicles in Beijing.
In May 2019, Baidu pushed the official website protection plan of public institutions and has completed the protection of 145,000 public hospital names. Baidu's deep learning platform PaddlePaddle released its Chinese name "飞桨" and upgraded to a full-featured industrial-grade open source platform.
In June 2019, Baidu launched the "Encyclopedia Medical Dictionary" project to provide users with authoritative and accurate, rich and comprehensive, easy-to-understand health science knowledge.
In July 2019, Robin Li and his wife entered the "Forbes China Charity List".
2019 Baidu AI Developer Conference was held in Beijing, releasing DuerOS 5.0, Apollo 5.0 and Baidu Brain 5.0.
Baidu was awarded the first five T4 level autonomous driving road test licenses issued by Beijing, becoming the first and only company in China to receive this level of license.
In August 2019, the daily activity of Baidu App exceeded 200 million, forming a three-dimensional layout of the two engines of "search + information flow" and the two ecologies of "Bajia number + intelligent applet". Canalys Q2 smart speaker report was released and Xiaodu surpassed Google to take the second place in the world.
In September 2019, Robin Li sent an internal letter to further upgrade the "Cloud + AI" strategy, and the intelligent cloud of Baidu was efficiently integrated with the CTO system.
The first 45 self-driving cabs of Baidu's Robotaxi fleet were put into trial operation in Changsha, becoming the first Robotaxi (self-driving cab) trial operation for the public in China.
In October 2019, the 70th anniversary of the founding of the People's Republic of China was celebrated with a grand conference, military parade and mass procession in Tiananmen Square in Beijing. Robin Li, a member of the National Committee of the Chinese People's Political Consultative Conference (CPPCC) and Chairman and CEO of Baidu, was invited for the third consecutive time to watch the ceremony on site on the National Day. Robin Li first mentioned the "intelligent economy" and its three major changes at the Wuzhen Conference, pointing out that the intelligent economy driven by artificial intelligence will bring significant changes and impacts in the human-computer interaction and IT infrastructure layer, and will give rise to many new industries. Baidu brain daily call volume exceeded 1 trillion times. Baidu map voice assistant user volume exceeded 300 million. Baidu proposed N.E.X.T. whole-chain AI marketing solution.
In November 2019, the content creators of Baidu reached 2.4 million. The monthly active users of Baidu's smart applets exceeded 300 million. The total number of Baidu Apollo self-driving road test licenses reached 150, accounting for more than half of all approved self-driving road test licenses in China. Baidu's brain speech capability engine has a daily average call volume of over 10 billion times, the industry's largest application scale. Baidu invested 1.4 billion in the construction of Baidu Yangquan Intelligent Cloud Computing Center (Phase II) to help Yangquan's industrial intelligence upgrade. Canalys report shows that Xiaodu Q3 smart screen shipments of 2.3 million units reigned as the first in the world for three quarters. IDC released 2019 China AI cloud service market vendor assessment: Baidu AI cloud is the first in China.
In December 2019, Xiaodu at home smart screen X8 was released, realizing skill upgrades such as far-field voice interaction, face recognition, gesture control, eye wake-up, and child mode. Apollo held its first ecological conference in Changsha, Apollo newly released two open platforms of vehicle-road coordination and intelligent vehicle association. apollo formed a layout of three platforms and three openings. Baidu filed 5,712 patents for artificial intelligence, ranking first in China for two consecutive years. Baidu held its first Baidu Knowledge Summit, and the daily search volume of Baidu knowledge content has reached 1.54 billion times. "Baidu AI people finder" helped 10,000 lost people go home. Baidu independently developed China's first cloud-based full-featured AI chip "Kunlun" and its cloud server was officially launched. The first intelligent speaker evaluation report of Chinese Academy of Sciences: Xiaodu products are the first in the country in terms of intelligence.
2020
January 2020. Baidu organizational structure adjustment, intelligent cloud into the AI technology platform system, CTO Wang Haifeng responsible. Baidu strategic investment in Yuxin Technology, "cloud + AI" scale landing in the financial industry. Baidu set up 300 million yuan special fund to continue to aid the epidemic prevention and control. Robin Li India talked about the smart economy, he pointed out that in the process of AI-led changes in the three major scenarios, China is accelerating the industries for intelligent transformation and upgrading to play a new production capacity.
Top five global AI companies in 2019, Baidu ranked fourth in the world.
In February 2020, Baidu's intelligent outbound call platform has been applied in ten locations across the country. Baidu open source the industry's first mask face recognition model, which can screen people who are not wearing masks. Baidu's information security governance in 2019: processed more than 53.15 billion pieces of harmful information and rejected more than 3.2 billion pieces of non-compliant ads. Baidu's "Common Degree Program" upgrade: the establishment of 2 billion special funds to help millions of enterprises to deal with challenges.
In March 2020, Baidu intelligent cloud structure adjustment, cloud computing, intelligent finance and other business leaders report directly to Wang Haifeng. Palm Reading Technology received a 700 million fixed-income stake in the Baidu system, will work together to build a digital reading ecology. Baidu established a new company, Baidu Health, whose business scope includes sales of sterilization supplies and medical devices. SemEval 2020 results are out, Flying Paddle ERNIE wins 5 titles. Baidu self-driving cars carry out adaptation tests in Yangquan. Chongqing joins hands with Baidu to build a city of autonomous driving. Baidu's Kunlun chip is equipped with China's AI "core" for intelligent quality inspection, achieving a 2-fold increase in computing power. Baidu Health was recommended by Beijing Center for Disease Control and Prevention to help overseas citizens fight epidemics.
Robin Li talks about the "new infrastructure" to help ignite the smart economy to take off.
In June 2020, Baidu completed the acquisition of Hunan Microcomputing Internet Information Technology Co. After the completion of the acquisition, Baidu will also work with Microcomputing to continue to broaden the boundaries of cloud mobile services and create more new value for customers in the 5G era.
In July 2020, Baidu Netcom Technology took a wholly-owned stake in Little Fish at Home.
On November 17, 2020, Baidu announced that it will acquire YY's domestic business for approximately $3.6 billion in cash, subject to price adjustments, and that the deal is expected to close in the first half of 2021. [17]
2021
On March 9, 2021, Baidu passed the HKSE listing hearing, according to HKSE documents. [18]
On March 23, 2021, Baidu was officially listed for trading on the HKSE. [19]
On April 13, 2021, Beijing Baidu.com Technology Co., Ltd (Baidu) issued a commitment to operate in compliance with the law. [20]
On April 26, 2021, at the Baidu Mobile Ecology Conference, Baidu announced the X+Y strategy layout of its mobile ecology, i.e., "develop user scale horizontally and cultivate industry verticals" to promote the entire ecology to service and personality upgrading. [21]
On April 29, 2021, Baidu said in a statement that it plans to launch Baidu Apollo driverless car service in Beijing Shougang Park on May 2. [22]
On June 3, 2021, Baidu Cloud officially launched its first heterogeneous AI computing platform "Baidu Bage" and its first storage product system "Baidu Canghai". In addition, Baidu Cloud also released the "Baidu Taixing" new generation of elastic bare metal servers; and jointly released the fifth generation of cloud servers with Intel. [23] In September 2021, Baidu launched a new generation of bare metal servers.
In September 2021, Baidu launched the Baidu Care App, which provides age-appropriate content and services. [24]
On December 7, 2021, Baidu announced that it changed its English name from "Baidu, Inc." to "Baidu, Inc. Baidu Group, Inc.", i.e., adding to the original name Baidu, Inc.", i.e., adding the words "Baidu Group Co. [3]
On December 27, 2021, at the Baidu Create2021 (Baidu A丨Developers Conference) in Beijing, Baidu released its first domestic meta-universe product "XiYang". [25]
2022
On March 3, 2022, Baidu Intelligent Cloud Xi Ling AI sign language platform was released, AI sign language platform "with "video sign language synthesis", "live sign language synthesis", "text to sign language The AI sign language platform has four major functions: "video sign language synthesis", "live sign language synthesis", "text to sign language", "voice to sign language", which can be deployed in just a few hours to achieve a variety of effects such as synthesizing ordinary video into sign language video, adding sign language images in real-time live broadcast, translating text into sign language, and translating voice into sign language in real time. hearing-impaired people can also easily realize various needs such as online socialization and course learning.
Baidu products
Baidu Search
Web search is the world's largest Chinese search engine.

Baidu is the main entrance for users to obtain information. With the development of the mobile Internet, Baidu web search has completed the transformation from PC to mobile, from connecters and information to connect people and services. Users can access Baidu's homepage on PC, Pad and mobile phones, and interact with a variety of parties through text, voice and images. Instantly find the information and services you need.

Baidu (App)
Baidu App is a mobile "search + information" client for smartphones with 700 million users. It combines search functions and intelligent information recommendation, and relies on Baidu web pages, Baidu pictures, Baidu news, Baidu know, Baidu encyclopedia, Baidu maps, Baidu music, Baidu videos and other professional vertical channels such as "search for anything to do. "It's okay to have a look" to provide users with more rich and practical functions and services.
Baidu Ditu (Baidu Map)
Baidu Map is a platform that provides users with travel-related services including intelligent route planning, intelligent navigation, real-time road conditions, etc. As a "new generation of artificial intelligence map", Baidu Map realizes the whole process of voice interaction coverage of user control, and launches AR step guide, AR tour guide and other practical functions.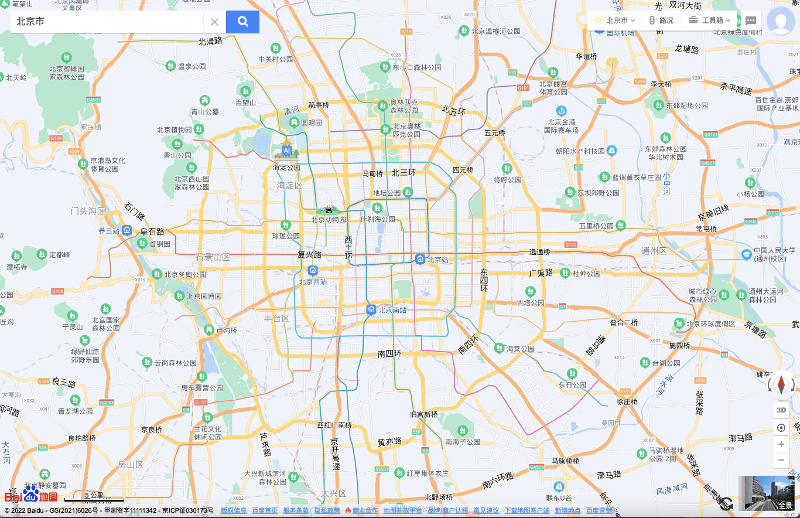 Baidu Nuomi
Baidu Nuomi brings together food, movies, hotels, leisure and entertainment, travel, home services and many other products related to life services, and has access to Baidu takeaway, where to go resources, one-stop solution to all the problems related to food, drink and fun, and gradually improve the ecological layout of Baidu Nuomi O2O.
Baidu Tieba (Baidu Posting Bar)
Baidu Tieba is the world's largest Chinese community. Baidu Posting is a keyword-based topic exchange community, which is closely integrated with search, accurately grasp the needs of users, and build a unique "interest theme" interactive platform. The posting directory covers all aspects of society, region, life, education, entertainment stars, games, sports, business, etc. It is currently the world's largest Chinese communication platform.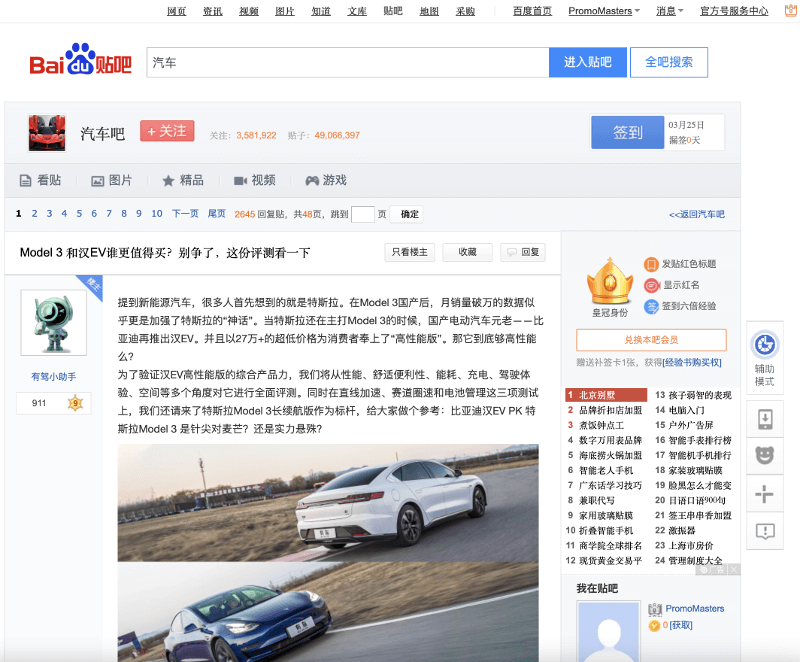 Baidu Baike (Baidu Encyclopedia)
Baidu Baike is like the Chinese version of Wikipedia, an open and free online encyclopedia platform, aiming to create a Chinese information collection platform covering all fields of knowledge. Baidu emphasizes the participation and dedication of users, fully mobilizes the power of Internet users, brings together the wisdom of hundreds of millions of users, and actively communicates and shares.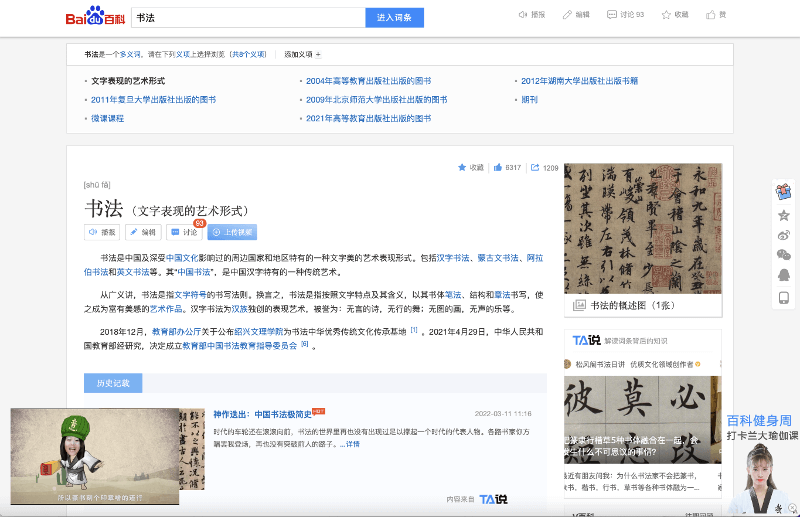 Baidu Zhidao (Baidu Know)
Baidu Zhidao, the interactive knowledge Q&A platform of Baidu (like Quora), is also the world's largest Chinese Q&A platform. The majority of users ask questions on Baidu Knowing according to their actual needs, and they immediately get online answers from hundreds of millions of users.
Baidu Wenku (Baidu Library)
Baidu Wenku is a knowledge platform published by Baidu for online document sharing, and is the largest open platform for Internet learning. Baidu Library users can upload, read and download documents online on this platform.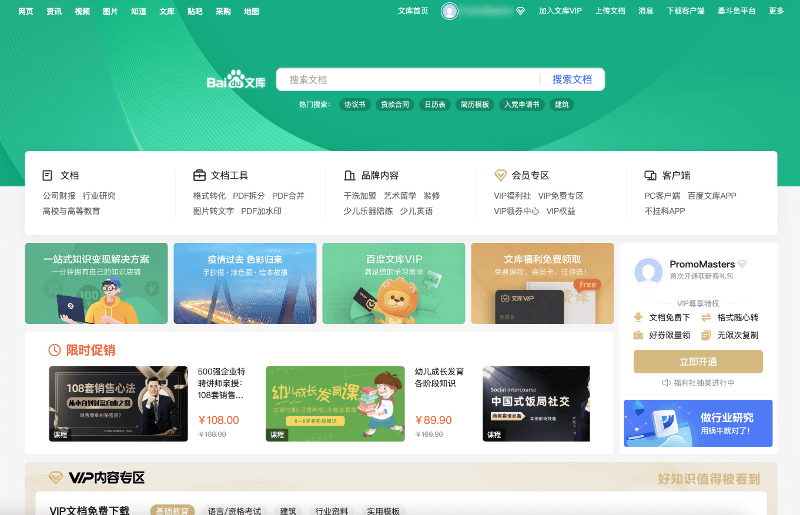 Baidu Jiankang (Baidu Health)
Baidu Jiankang is one of the most important pendants in Baidu's mobile ecosystem. It is a one-stop health management platform incubated and built by Baidu itself, uniting top medical resources to build five systems of health knowledge services, online medical consultation services, health mall services, chronic disease management services and Internet hospital services, allowing users to conveniently access reliable health knowledge and quality health services.
As of August 2021, Baidu Health has collected 500 million pieces of authoritative scientific content, attracted more than 300,000 professional doctors and provided online medical consultation services more than 2 million times a day.
Baidu Haokan (Baidu Short Videos)
With exclusive short video content sources, the Haowei video platform is a professional short video aggregation platform with categories covering a full range of quality video content such as funny, music, film and television, entertainment, games, life, skits, military, cars, news and so on.
Hundreds of thousands of video creators provide a full range of video content to 700 million Baidu ecological users through Good Watch Video, which is watched billions of times every day.
Baidu Hulianwang / Xiaodu
Baidu is the pioneer of conversational artificial intelligence in China. From the release of 'Duo Secret' in Baidu World in 2015, to the release of DuerOS and extensive cooperation with hardware partners in 2017, to the release of a series of Xiaodu intelligent hardware products in 2018, the integrated AI ecology of software and hardware under Baidu has been formed.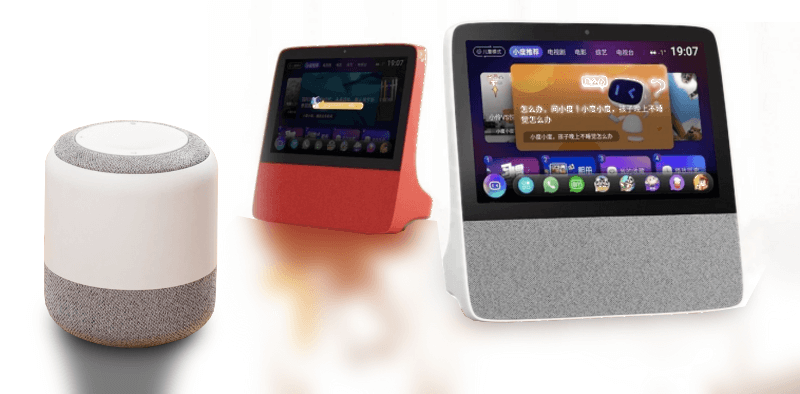 Xiaodu currently covers Xiaodu series of smart hardware, Xiaodu assistant software services (built into third-party partners' hardware and cell phone APPs), and Xiaodu conversational AI operating system.
Xiaodu Car OS (小度车载OS)
The complete AI Telematics solution for mass production has three major features: complete, multi-mode and open, including five major components: large-screen intelligent car computer, LCD instrument panel, streaming intelligent rearview mirror, Xiaodu car robot and AR-HUD intelligent windshield, providing users with excellent in-car interaction experience.
Baidu Apollo Enterprise
Baidu Apollo Enterprise provides mass production, customized and safe autonomous driving and connected vehicle solutions for automotive companies, suppliers and travel service providers to accelerate the realization of intelligence, network connectivity and sharing. It includes five comprehensive solutions: Xiaodu car OS, high-speed scenario autonomous driving, autonomous parking (Valet Parking), minibus autonomous driving, and map data service platform.
Baidu Telematics / Internet of Vehicles (百度车联网)
Baidu Telematics is the forerunner of Apollo, the builder and core outlet of Baidu AI-enabled car scenes, and a core important component of Baidu's AI strategy. It has leading core capabilities in the industry such as voice semantics, multi-mode interaction, driver monitoring, and in-car information security, providing a full range of Telematics ecosystem and services to accelerate product implementation in the field of AI car scenarios.
Baidu Smart Applet
Smart applet is a new application form based on Baidu App, which can be developed and run on multiple ends at one time, both on Baidu App and other cooperative APPs, helping developers to obtain traffic more widely. No need to install, just click and use, the experience is comparable to App, users can get the services and information they want more quickly.
Baidu Mobile Assistant
Baidu Mobile Assistant is the authoritative resource platform for Android cell phones, ranking first in the market for ten consecutive quarters in terms of distribution market share, with the most comprehensive and best applications, games, wallpapers resources, helping users to search accurately, download at high speed, and manage easily in the vast amount of resources, thousands of convergence, at a touch.
Baidu Netdisc
is a cloud storage service launched by Baidu, which not only provides users with free storage space, but also allows them to synchronize and manage photos, videos, documents, contacts and other data across platforms between mobile devices and PC clients; Baidu.com also supports adding friends, creating groups, and sharing across terminals anytime and anywhere.
Baidu Smart Cloud
Baidu's intelligent cloud computing service platform for enterprises and developers, as the carrier and source of Baidu's AI strategy, Baidu Intelligent Cloud is the cloudization of Baidu's brain, carrying 150+ AI capabilities of Baidu's brain and providing technical support for Apollo and DuerOS.
Baidu Mobile Input Method
It has won many awards such as "Excellent Application of the Year" and "Most Popular Input Method". It has a large lexicon, intelligent word association, supports multiple input methods, and smooth typing; high speed and accurate voice input, supports free speech in Chinese and English, and free speech in dialect. It provides thousands of personalized skins, emoji and face characters, and popular emoji images are updated daily to help young users personalize their expressions.
Baidu Browser
Baidu Browser (Chinese: 百度浏览器) is a discontinued WebKit and Trident web browser developed by Baidu for Personal Computers and mobile phones. It was officially launched in public beta on June 15, 2011, with an extremely fast kernel and powerful power, providing super intelligent search and integrating Baidu's quality services.
Hao123
Hao123 was founded in 1999 and acquired by Baidu in 2004. As a core product of Baidu, hao123 timely includes popular classified websites including music, videos, novels, games, etc., and perfectly combines with search to provide Chinese Internet users with the easiest and most convenient online navigation services, redefining the concept of Internet navigation.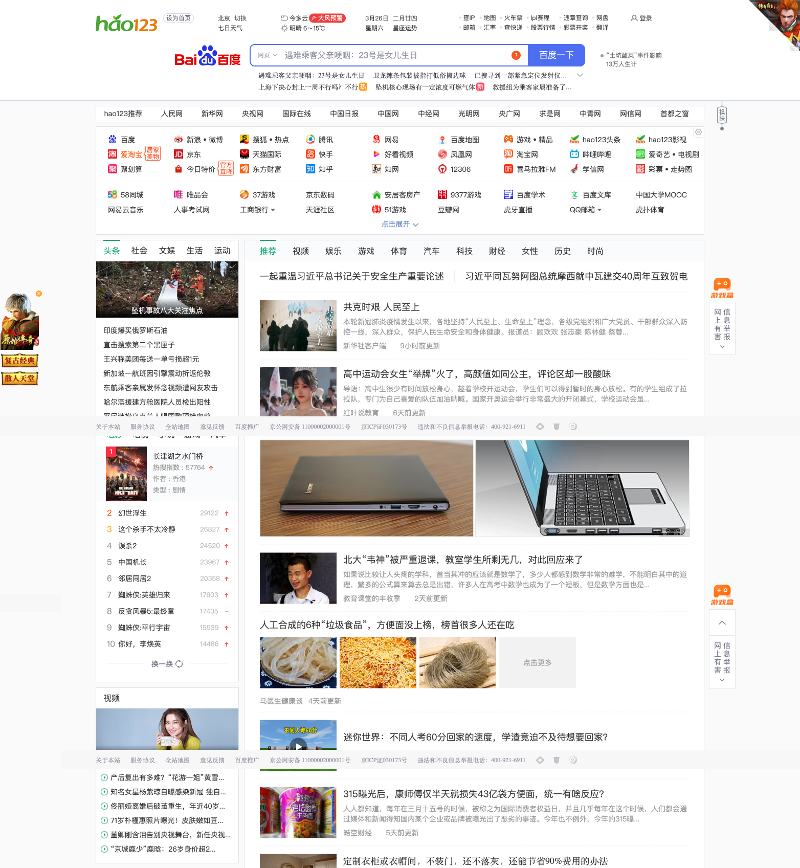 Baidu Security
Baidu Security is a Baidu company, AI as the core, big data-based to create a leading security brand, is a summary and refinement of the best practices of Baidu in the Internet security 18 years. The business consists of five matrices: AI security, mobile security, cloud security, data security, and business security, comprehensively covering various complex business scenarios of Baidu, while exporting leading security products and industry-integrated solutions to individual users and business partners.
Baidu Business Services
Baidu Business Services integrates resources such as search, information, video, offline scene screens and alliance traffic to form a media matrix with full-scene and full-user coverage, and relies on AI technology and big data capabilities to provide a full set of intelligent marketing solutions such as consumer insights, automated creative, and merchant applets. We provide enterprises with a full range of business services for brand building, effect promotion and consumer operation.
In 2019, digital marketing will enter the 4.0 era with AI intelligent marketing as the core, and Baidu Business Services will realize the "four new synergies" of new connections, new scenes, new flows and new brands, and will be fully applied to core business products such as search promotion, information flow advertising, brand marketing and merchandise promotion.
New search promotion
From traffic operation to consumer operation, we apply AI capabilities in the whole chain of intent recognition, traffic, creativity, and ad matching to open up online and offline scenarios to achieve full coverage of user scenarios, and continue to provide marketing and consumer operation capabilities for all large customers and small and medium-sized local customers.
In-feed ads
With search promotion to form a "search + recommendation" dual engine, the comprehensive application of AI technology, the integration of Baidu APP, good-looking video, national video and other native traffic and high-quality alliance traffic resources, support images, video, AR and other forms of advertising creative, and provide convenient and easy to use marketing tools, to provide enterprises with one-stop information flow marketing services.
Brand Marketing
Gathering online and offline resources, we provide platform support for business partners' brand growth, empower brand marketing with big data, realize mind marketing with AI, and help brands achieve product-effect synergy in brand building, brand communication, and brand transformation with Omni Marketing, Baidu's fully conscious integrated marketing digital platform, to accurately and effectively discover target consumers, communicate with them through appropriate media, and ultimately achieve effective consumer transformation.
Flash product promotion
(DPA: Dynamic Product Ads): AI-driven precision marketing for thousands of people and thousands of products, intelligently connecting people and products, carving crowd portraits and dynamic recognition of intentions based on big data, matching products and intentions based on structured product data and realizing intelligent splicing of advertising ideas, so as to realize the right display of the right product information to the right people at the right time and scene.